Grand County Economic Summit
730 Baker Drive Baker Avenue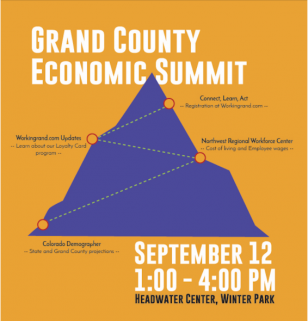 Business Education
Chamber/Member Events & Meetings
Community Events
Join Us! Grand County Economic Summit
Grand County Economic Development is excited to share information about the future of our economy with you.
Agenda:
State Demographer, Elizabeth Garner, will present on the demographic trends that are impacting the county.
Director of the Colorado Rural Workforce Consortium, Jessica Valand, will discuss the most recent data concerning workforce trends in the county and cost of living statistics.
Demonstration of workingrand.com and an introduction to the Employee Loyalty Card program
This is a free event, but registration is requested for planning purposes.
Register today
and tell your friends!