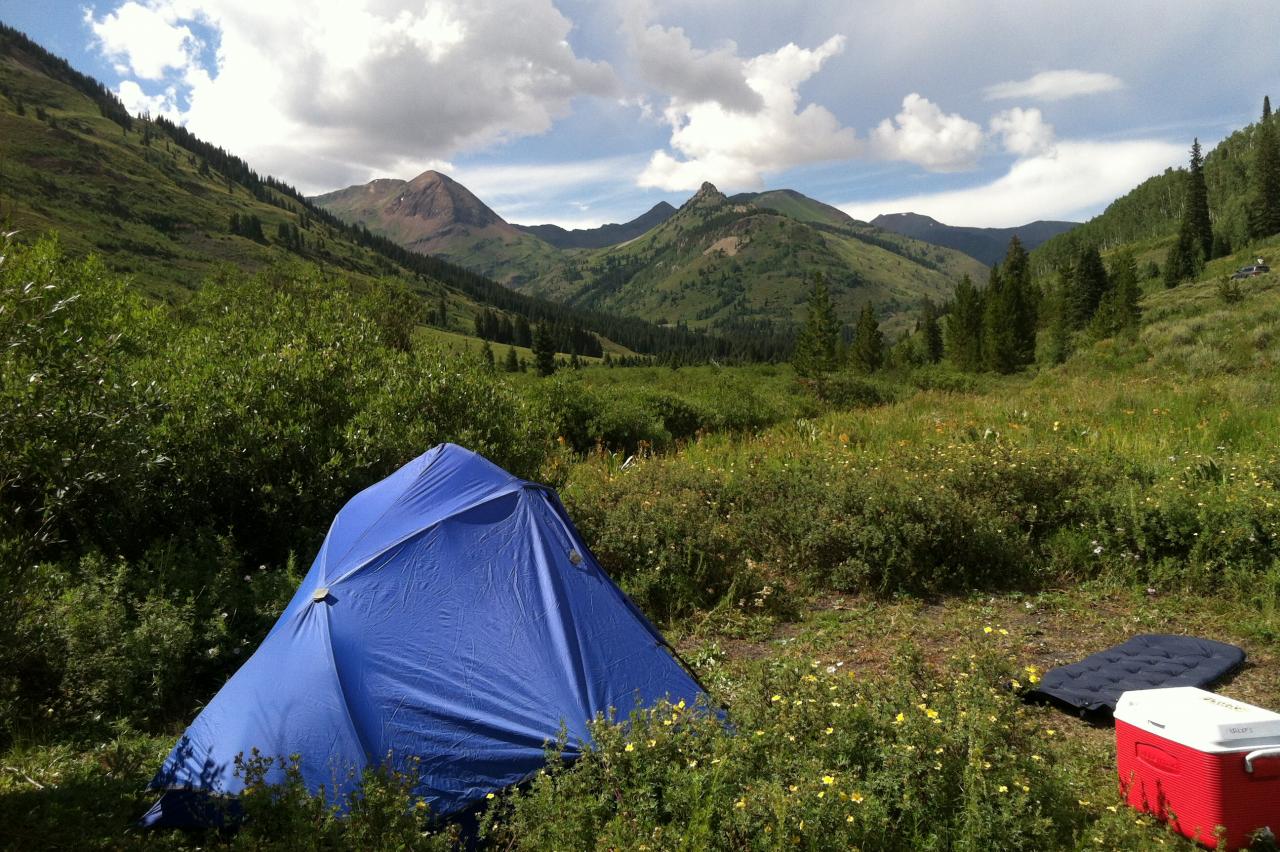 Guide to Camping in Winter Park
Campsites, Tips and Styles of Camping
Camping in Winter Park
Local Expert: Camping
Winter Park summers just aren't complete without a camping trip! That's why camping in the mountains tops our list of must do activities for any fun-filled Winter Park adventure. How is that conversations held around the campfire seem to mean more, a night's sleep on the hard dirt leaves you more refreshed than when you sleep in your own cushy bed, and even hot dogs grilled on the fire leave you more satisfied than a 5 star meal! If you're considering a trip to Winter Park or the Fraser Valley for a late summer camping adventure, check out some of our top tips on where to camp, what to pack & what to know before you go, you can be sure everyone in your group will leave a happy camper!
​NOTE: Check the latest on area campgrounds.
Please call the US Forest Service at 970.887.4100 for the most up-to-date camping information and conditions.
Deciding Where to Camp in Winter Park
The first choice you have to make is what type of camping trip you're looking for. We'll make it easy & give you 2 options. You can either go to an established & maintained campground or you can get a little more rugged and choose to find a dispersed campsite within the National Forest. Not sure which way you're leaning? Let's break it down…
Option 1 - Established / Developed Campgrounds
Developed campgrounds offer amenities like bathrooms, trash disposals & clean drinking water. Most (including the 2 we'll mention) have a camp host living on site to answer any questions & to assist you if you're having trouble. Developed campsites have a designated parking area, tent pad / RV pull in, picnic table & fire pit - often times you can even purchase firewood from the camp host. For a traditional car-camping experience in a developed campground here are two of our favorite campgrounds near Winter Park & Fraser. For a full list of established campgrounds in Grand County click here.
Idelwild Campground
Idelwild is located right off Hwy 40 as you're coming into the town of Winter Park from Denver. The campground sits right on the Fraser River Trail making it easy to walk or bike to Downtown Winter Park & Winter Park Resort. Idelwild is the perfect choice for a quick-escape camping trip & because of it's central location it is especially popular for new campers & families with younger kiddos. Idelwild offers both tent & RV (not pull through) sites & costs about $16 per site each night. Most the sites are tucked back in the trees offering you plenty of shade. While the campground is located near the Highway, car noise is easily lost by the sound of the Fraser River which runs alongside the campground. For a fun day activity, you can come in to town rent a bike then take a ride up to Winter Park Resort & enjoy the coast back to camp when you're through.
St. Louis Creek Campground
Located just outside Fraser on County Road 73 inside the Fraser Experimental Forest, St.
Louis Creek is another popular camping destination. St. Louis Creek earns it's place as one of our go-to campgrounds due to it's quick access to biking & hiking trails, in fact it is located on the Creekside Flume trail which is one of our all time favorite trails & perfect for a mid morning excursion. The campground offers amazing views of the Byers Peak mountain range & campsites see a lot of sunshine.

Option 2 - Dispersed Camping
​NOTE: Check the latest on area campgrounds.
Please call the US Forest Service at 970.887.4100 for the most up-to-date camping information and conditions. Or visit the Sulphur Ranger District of the Arapahoe & Roosevelt National Forest for the latest on dispersed camping rules and regulations
---
This is more of a choose your own adventure experience requiring slightly more work but offering even more reward. When you disperse camp you decide how far removed you want to be & how much work you want to put in. No services are provided, you are responsible for bringing your own water, bringing or finding your own firewood & burying your own personal waste. Whatever you pack in you must pack out.
When you go to select your campsite choose a site that has been used before as opposed to creating a new campsite which may damage the forest, also be sure that you are within 300 ft. of the road before you set up camp. Only certain areas allow dispersed camping, for a full list of dispersed camping guidelines click here or contact the US Forest Service office in Granby at 970.887.4100 with questions.
Can I Reserve a Campgroud?
Most established campgrounds in Winter Park & Fraser are operated by our local Lyons Club while reservations are generally not accepted for these campgrounds you can contact the camp host at 970-726-4330 to ask about current availability.
Developed campgrounds in Winter Park & Fraser are open from Memorial Weekend to Labor Day Weekend.
Dispersed camping is all first come, first serve. How early or late in the year you can camp is largely based on weather conditions & road accessibility. In general, anytime after late September makes for very cold nights, roads may even start to see snow. Always check the USFS website & know before you go.
Campgrounds often fill up by Friday evening, especially during busy summer weekends so aim to set up camp as early as possible on Fridays. If you're able to duck out of work during the week even better!
A Few Tips to Know Before You Go
ALWAYS check Grand County fire restrictions before planning your camping trip.
Properly dispose of or store any food items and trash before going to bed (put your cooler, cooking equipment & trash in your car or lock box). If you don't it's bad news bears...awful pun intended.
Be aware of wildlife - moose & bears are frequently sighted in camp areas. Remember you are sleeping in their backyard, keep your distance and never feed or antagonize wildlife.
Tell someone at home exactly where you are going & when you're planning to be back
Bring a map...a real map. We've learned the hard way - phone reception can be spotty don't rely on your phone's navigation.
Just like ya learned in Cub Scouts - always leave an area cleaner than you found it!
Our Winter Park Camping Trip Packing List
Camping at 9,000 feet requires a bit more planning & foresight when it comes to deciding on what to pack. Below is the checklist we use whenever we go camping around Winter Park or Fraser. Keep in mind, this is not by any means an all inclusive list but it's a good place to start.
Infrastructure: Tent, Sleeping Bags, Sleeping Pads, Pillows, Tarp, Hammock (afternoon naps on a camping trip are everything!)
Other Essentials: Lantern & Flashlights or Headlamps for late night card games or potty breaks, shovel, trash bags, rope, paper towels, matches, fire starter (we use old dryer lint to get ours goin'), firewood or an axe...depending on your motivation level.
Personal Care: Sunscreen, lip balm, bug spray, first aid kit, toilet paper, face wipes, all-in-one soap (like Dr. Bronner's soap), hand sanitizer.
Fun & Games: Card games, Frisbees, bikes, and a good book.
Clothing: Bring multiple layers! Mountain temps change quickly, even though it's 70 degrees during the day it can drop below freezing at night. We usually stash a warm jacket, a pair of long johns & a good winter hat for campfire story sessions once the sun goes down. Don't forget to pack a rain jacket, sandals, hiking shoes, hat, sunglasses, jeans, shorts, t-shirts, camp hoody, socks & undies.
Camp Kitchen: Camp stove, fuel, pans, dishes, utensils & spices, cooler, & ice. A camp table & tarp or mosquito net to guard against bugs is a bonus!
Camp Friendly Food: After years of struggling to appease a hangry crowd while making dinner at camp we've become big fans of prepping food ahead in advance to limit cook time at the campsite. We try and do all the slicing & dicing before leaving home & usually end up throwing meat in a Ziploc bag with some kind of tasty marinade for an easy dinner.
Another great tip - crack your eggs & put them in a Tupperware container before leaving town & you won't need to worry about cleaning up a mess in the cooler.
Some of our standby camping meals are things like: deli wraps, hobo packs (meat & veggies sealed in aluminum foil packets & cooked on the campfire), hot dogs, shish-kebabs, & breakfast burritos. Oh right, don't forget the most important food group of all- s'mores!
Well, there ya have it... a not so definitive guide to camping near Winter Park. Try out some tips on your next camping trip in Winter Park & let us know what you worked out or what you would add!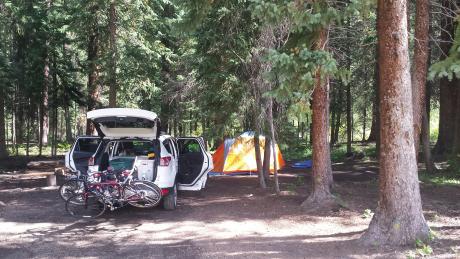 Car Camping in Winter Park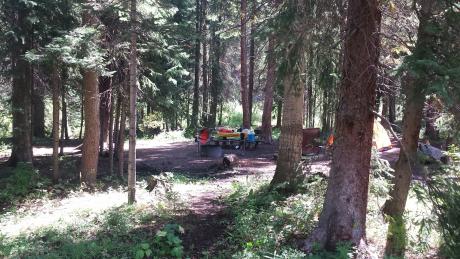 Family Campsite at Idelwild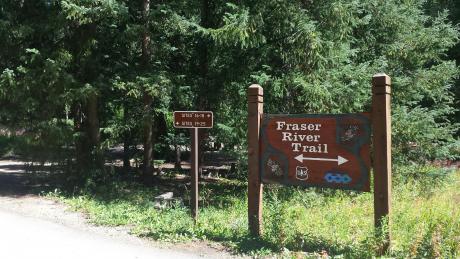 Fraser River Bike Trail at Idelwild Campground