Winter Park Express
Image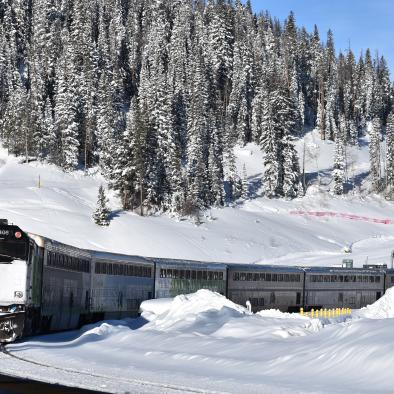 Plan a ski day, weekend, or week and take the Amtrak Winter Park Express from Denver Union Station to the base of Winter Park Resort from January 4 - March 31, 2019. The Winter Park Express runs Saturdays and Sundays only, plus the first two Fridays of each month (January 4 and 11, February 1 and 8, and March 1 and 8).
Book your travel on this historic train trip, which originated in 1912, at the early bird price of $29/one way on select departures. Book early before the one way $29 discount tickets are sold out. All other tickets are priced at $39, $49 and then $59 respectively. Pricing is subject to availability and only a limited number of seats are available for each train and each price level.
Discounted tickets are sold on a first come first served basis. With one-way tickets and service on Saturday and Sunday you can make it a day trip, a weekend-long trip or an extended vacation. Customize your length of stay at Winter Park Resort and get as much skiing/riding in as you'd like. Buy your tickets early.
Instead of enduring delays and back-ups on I-70, you can now relax and enjoy the scenery while we do the driving.
This season, Winter Park Express trains will have snacks and beverages available to all passengers onboard, using a bi-level Superliner Sightseer Lounge with windows that start at the floor level and wrap into the ceiling of the railcar. This onboard service improvement is in response to customers who have asked for coffee and other items on the trip up to Winter Park each morning, with snacks and other beverages on the evening return trip.
Here's a look at the Winter Park Express schedule:
Depart Union station at 7:00 am
Arrive to Winter Park at 9:00 am
Depart Winter Park at 4:30 pm
Arrive to Union station at 6:40 pm Act fast and treat yourself to a day of mountain fun that doesn't include tail lights.
How to Book this Trip
Simply visit amtrak.com to purchase your tickets, you will:
Select Round-Trip.
Enter Denver, CO (DEN) in the From box.
Enter Winter Park - Ski Resort, CO (WPR) in the To box.
Select preferred departure date.
Select preferred return date.
Select the number of Adult or Child passengers (passengers 62 and older should use the Adult passenger type).
Questions about this excursion should be directed to Winter Park Resort at 1-888-923-7275.
Group train tickets and ski/recreation packages are available for the Amtrak Winter Park Express for groups of 20 or more (no group discounts will be given on train travel). Contact Amtrak Group Travel for pricing and availability.
Don't forget to book your Winter Park Resort lift tickets.