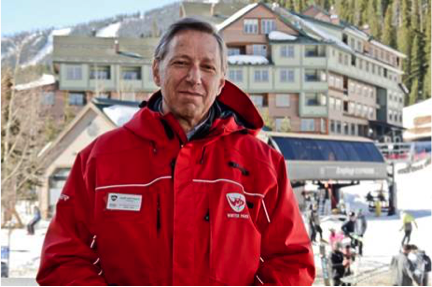 The Winter Park & Fraser Chamber of Commerce Board & Staff wish to thank Gary DeFrange for his service to Winter Park Resort over the past 20 years as he announces his retirement today.
Many of us have had the pleasure of working alongside Gary DeFrange since he came onboard as President of Winter Park Resort in 1997.  Winter Park Resort has flourished under Gary's leadership such as expansion of on-mountain terrain, development of the Winter Park Village and summer mountain bike program along with special events and of course, most recently bringing back train service from Denver with the Winter Park Express.
Gary's commitment to the community at large has always been an inspiration; his dedication to NSCD, our local School District, Affordable Housing, Grand Foundation, Transportation and the overall economic vitality of our community is outstanding.
The strong collaborative efforts between Winter Park Resort and the Winter Park & Fraser Chamber are due to Gary's commitment to building a strong business model together.
We will miss Gary's leadership at Winter Park Resort but look forward to engaging with him as a community member. 
The Chamber looks forward to continuing our close and positive working relationship with Winter Park Resort under the leadership of Sky Faulkes.
Gary, thank you for your service, we hope to see you and Michelle having fun around town and at the golf course!