2018 Ride The Rockies
Image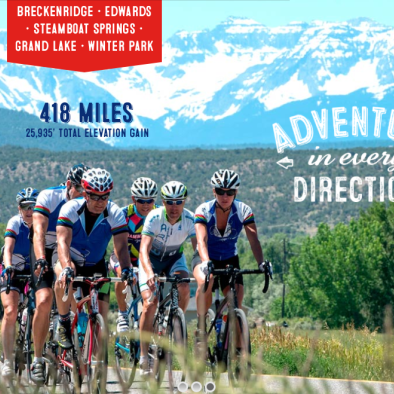 There's adventure in every direction with Ride The Rockies (RTR) June 9-15, 2018. Riders on Colorado's premier cycling tour will take in breathtaking Rocky Mountain views on the tour of a lifetime arriving in Winter Park on June 14.  Come and celebrate with Ride the Rockies participants from 2PM-8PM at Rendezvous Event Center in downtown Winter Park.
Enjoy FREE live music by Intuit Band at  3:15pm  and  Gasoline Lollipops at 6:00pm, food trucks with local flair including Back Bowl Soups and others. Gluten and Vegetarian options will be available (please note, this event is closed to outside food and alcohol).
---
Here's some Information for Race Participants:

Thursday, June 14, 2018
Headquarters (HQ): Grand Park Community Recreation Center, 1 Main St, Fraser
HQ Hours: 9:00am – 4:30pm
Food/Lunch (at HQ): 10:00am – 4:00pm * Fraser River Valley Lions Club (Grilled items, salad, chips) GF, V
Yoga (Grand Park Community Recreation Center): 2:00pm & 2:30pm
Entertainment
KFFR 88.3 FM will be broadcasting live from 2:00pm-3:15pm
2:00pm - 8:00pm Odell Beer Garden plus delicious food truck offerings
2:00pm Tour Director Route Briefing
2:30pm Cycling Seminar:   Gravel Panel  – "Gravel is the new Black"
3:15pm Intuit Band
Day 6, Friday, June 15, 2018
Food – Breakfast 5:00am – 8:00am
Fraser River Valley Lions Club (pancakes, sausage, juice, coffee, tea) GF, V
Coffee by Mobilebikeman.com
RACE PARTICIPANTS READ MORE & REGISTER HERE
*Proceeds from Ride The Rockies benefit The Denver Post Community Foundation.